The Ultimate Benefits Of Local SEO For Your Business
Did you know that 46% of all Google searches are local?
This means that if your business's local SEO isn't on point, you could be missing out on some significant business right now.
let's learn about the benefits of local SEO for small business
But what is local SEO? & moreover how is local SEO different from SEO?
Well, local SEO or local search engine optimization is the practice of optimizing and increasing the visibility of your business via a specific geographical location. This way, with an optimized page, you would rank high in your local area.
Now, are you wondering how a local SEO can help your business? or why does local SEO matter?
Read on to find out.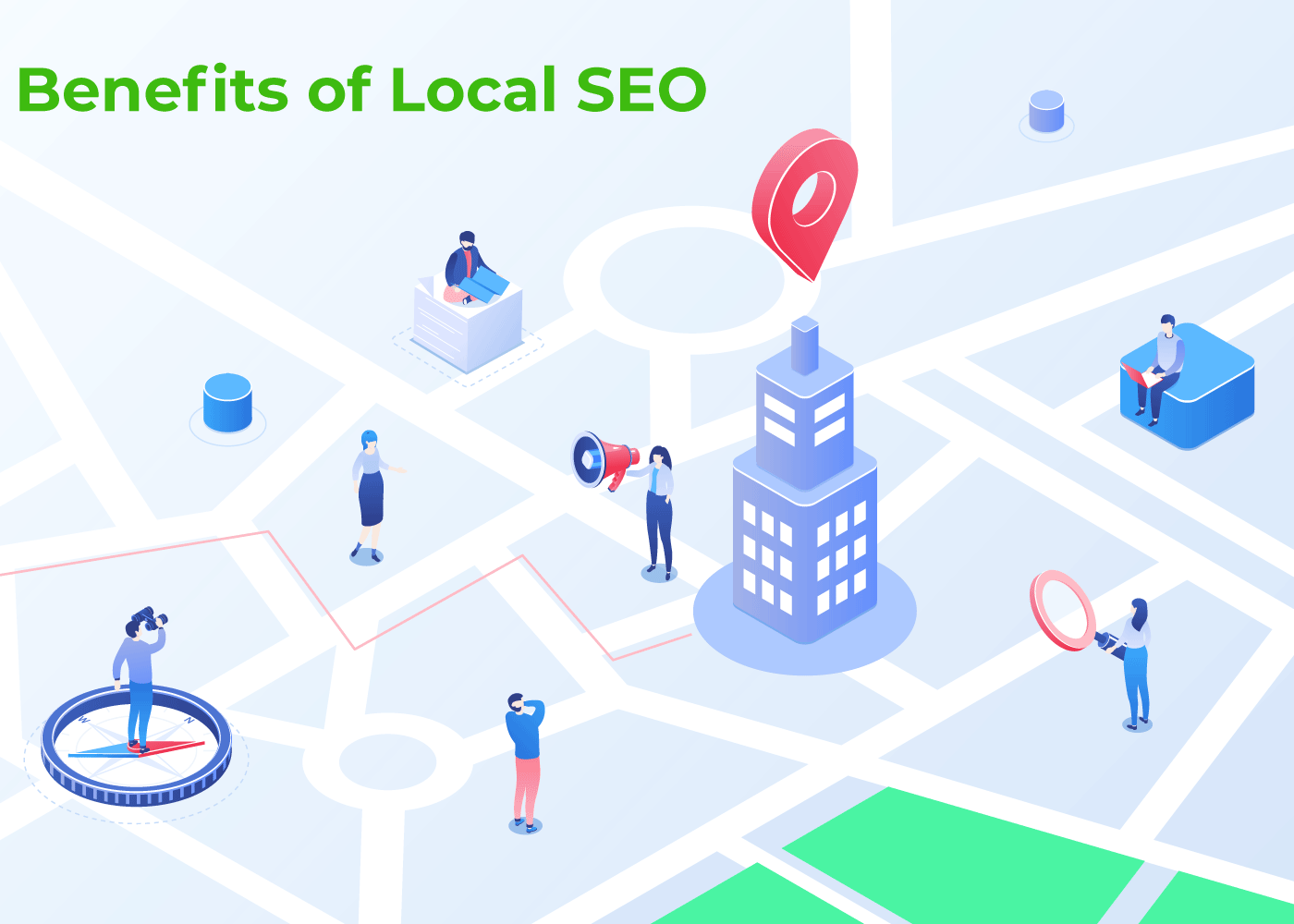 5 Top Benefits Of Local SEO
1. Increased Traffic 

2. Less Advertising Cost 

3. Returning Customers 

4. Build Authority 

5. Build Community
Of course, the intent behind local SEO is to increase traffic and let people know that your business exists. And better yet, the best local SEO has the potential to bring more traffic than a thoroughly optimized webpage focussing on a wide audience.
No amount of newspaper listings, pamphlets, or posters can bring in clients like the coveted place in the top search pages of Google. Around 80% of people search for options 'near me'. This means that if you focus on your page's local SEO, you can decrease advertisement costs and multiply your potential clients.
When you target a general audience, most of them would be one-time buyers as they're located away from your location.
But if you target local areas, you'll be able to get yourself, customers, from near you, who are most likely to return to you for similar services.
How?
Local SEO provides two touchpoints for customers. First, you'll have to win them over with your amazing shopping experience. Now, the next time they Google for similar services, Google will show your name at the top – acting as a reminder and nudging them towards your business.
When you rank high in Google searches, people automatically assume that you are one of the top service providers in the area.
This will help your potential clients trust you and reach out to you. As a result, you'll be slowly seen as an authority figure in your niche.
Building communities are getting a lot of importance these days. It can be among local businesses or your customers.
Creating reputable backlinks will open doors to offer business collaborations. Local businesses can help each other out by guiding customers to the respective businesses according to their needs.
This will again help increase customers as they are most likely to trust a good referral.
But all of it will only be possible if you have a good local SEO. So how do you optimize your page to get the most benefits of local SEO?
Let's find out.
How To Boost Your Local SEO Ranking?
Here are 5 ways to help you build a solid local SEO ranking :

1. Google My Business (Google Business Center)

2. Optimize your Website for Mobile viewing  

3. Optimize your blogs title and meta description 

4. Add location Pages to your websites 

5. Create Local Content 
1. Google My Business
One of the first steps towards adopting local SEO is to make sure that your page is optimized for Google My Business. Google My Business allows you to create free listings and is Google's way of authenticating your business for its search engines.
Here's how you can optimize your page for Google My Business or google business center:
Step 1: Create a Google My Business page.
Step 2: Use Google Posts within your account
Step 3: Let your customers share reviews online.
Step 4: Respond authentically by specifying your location.
If everything goes well, Google will authenticate your page, and your page will be shown in the sidebar in Google's local search.
Besides, updating your information about location, timing, etc., will only help potential customers find you easily. Especially now since most people check for reviews and ratings before visiting a place.
so update your google my business profile regularly to get the most benefits of local seo
2. Optimize Your Website for Mobile Viewing
It's more likely that people will look you up from their mobile phones rather than their computers. 
According to Uberall's study, 82% of people did a 'near me' search on their mobile. They could be looking up businesses like you, your reviews, directions to your business, etc. 
Therefore, it's essential to make this process easier for them so that you don't miss out on your clients. Let's see how we can do that:
Improve your website loading time.
Integrate response time into your site so that it adapts to any device.
Offer excellent user experience.
Add easy-to-find call to action.
3. Optimize Your Blog's Title And Meta Descriptions
If done right, every blog post of your page can be used to target potential clients, rank higher on Google maps, and on search engine result pages (SERPs). 
For this, every post must contain highly optimized keywords in title tags, meta description, URLs, title, header, and body. You can use free tools like Google Ads keyword planner to find the right keyword for your page.
Pro Tip: if you find it difficult to add geo-targeted content to your website, consider writing about customer success experience and case studies. 
4. Add Location Pages To Your Websites
Another way to rank higher in Google Map and pages is to create location pages, especially if you have businesses in more than one location.
These location pages should carry your name, store timings, contact information, parking information, and even great customer reviews. Add a Google Map to your location to see the wonders it'll do to your websites.
5. Create Local Content
Yes, adding content on general topics will bring more people to your site. However, focusing on your specialty or niching down will help you get the right people who could be your potential clients. 
For instance, to rank higher on Google Maps you could add content on local history, local tourism, events, etc. This way, over time you'll become the local authority of your region which immediately skyrockets you to the top pages of Google. 
Answering FAQs, hosting events, offering discounts, etc. are some other ways to increase your local SEO.
Next, let's look at some tips to help you become a pro in local SEO:
Tips to Boost Local SEO and Google Map Optimization
Given below are some incredible tips to help you rank higher on local search pages:
Ensure that your business has a physical address in your target area. And the address should be in or relatively closer to the area you would like to target.
Two of the most important factors that influence your ranking is Google Maps and Google reviews. Add a Google Map detailing the specific location of your business – this will help immensely your ranking.
Besides, you can also add the following details:
Store opening and closing hours.
Driving directions using prominent landmarks.
Contact number.
Links and social media sharing options.
3. Claim your listing on Google maps. When you create your business listing, the most you can do is provide your business's name, location, and category.
However, if you claim your listing on Google maps, you can add a lot more information about your business.
And how does it help you?
Well, the more information you have, the higher your business will rank on Google maps. And all you need is a free Google My Business account!
4. Maintain consistency about your business's information. Every business listing across the Internet such as social media pages, directories, etc., must be the alike and consistent. This will build your credibility and help you rank better.
5. Google is a fan of local numbers. So ensure that you do away with all the toll numbers and start listing your local numbers online. It will also help Google verify that you're indeed listed in the area.
And if you use call tracking, list both your tracked number and your main number. Call tracking will help you figure out how successful your local SEO is.
6. Provide a business description in you website and in the listing. This will give your potential clients an idea about what you do. Make sure that the description aligns with the tone of your brand, so that you stand out from the crowd.
Also, remember to include keywords in your description. These keywords will help Google find and link evrey other site of yours as well as products.
7. The categorization of your business website influences the Google maps. These categories can be more than one.
For the primary category, choose the one that best suits the type of your business. If you feel that more than one category applies to your business, mark them as secondary categories.
8. Did you know that you could post on Google Maps just like you do on social media? And you should do too because it'll let Google know that you're proactive –  helping you rank higher.
9. Provide different pages for different locations and products. Each of these pages must be highly optimized with specific details required to rank higher in Google maps.
10. While you take care of the rest, don't forget to create unique, engaging content for potential clients who visit your webpage. The 'time on site', 'click through rate', and the 'bounce rate' are important elements that decide your ranking.
So to retain clients, your website should be easy to use, intuitive, and full of creative content. 
Hope you understand the benefits of local SEO with this content 
Local SEO has been steadily gaining popularity in recent years, especially during the pandemic.
It'll help increase your visibility online, attract potential customers, let you build an authority, and double your sales – all by just ranking high on local google search pages.
Use our guide and tips to optimize your page and witness how the right local SEO can help transform your business!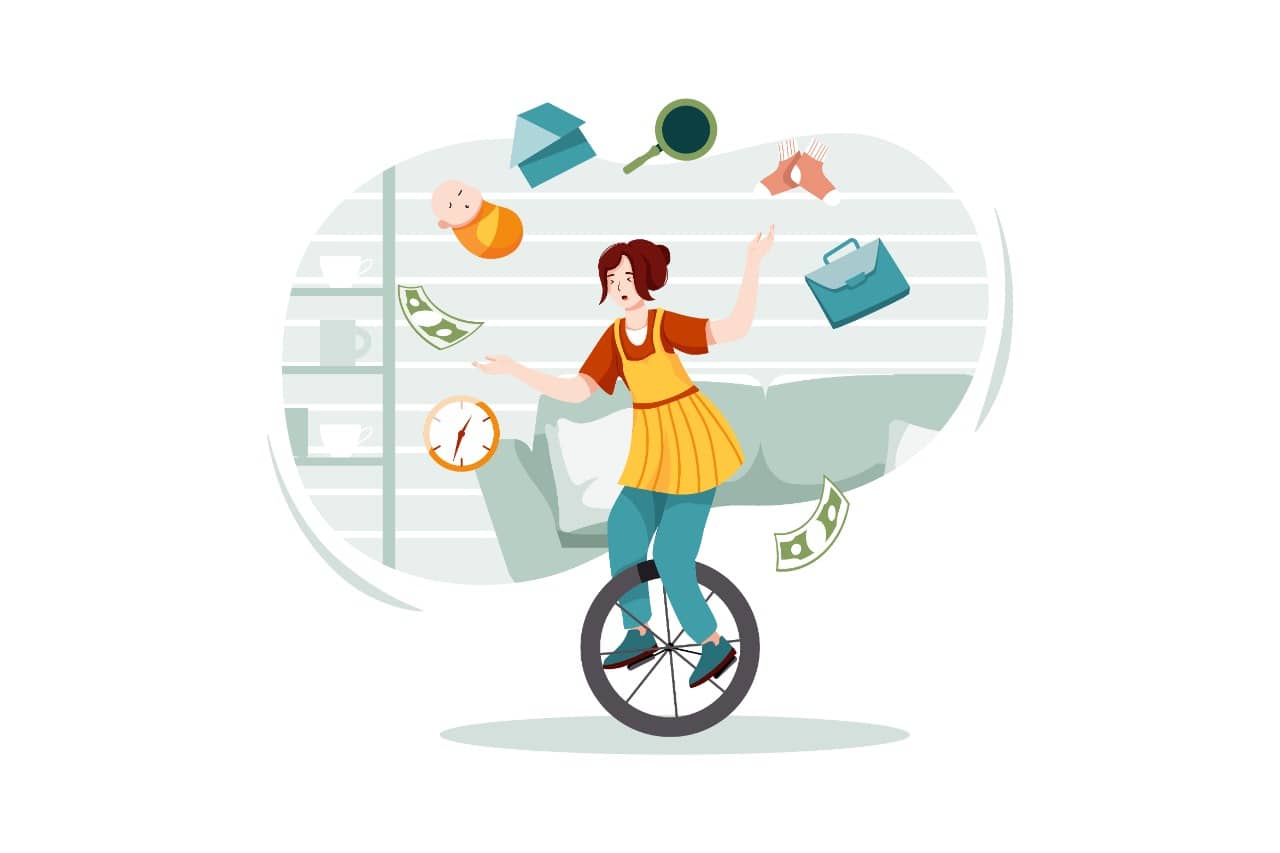 Advantages of WordpressAnalysis by Whoofeyers 07 July 2021If you are looking to build an online presence for your blog, then you might be confused with where to start one. What you would be looking for is something that is budget friendly, efficient, yet one that...
read more